Iraq's displaced population is returning to their destroyed homes. For some Yazidi women, living in camps has been a chance to empowerment.
There has never been a gym, or sports facility of any kind, for girls in Husna's village in Sinjar, even before ISIS rampaged the area and before the war flattened cities and villages. Husna's boxing courses are the first-ever sports event for women in her town.
In the past few months, Iraq has pushed to return the displaced Yazidi population home in the northwest of Iraq. As the Yezidis go back to Sinjar to rebuild their lives from scratch, the 21-year-old Husna opens her own little gym there. With a sack of boxing gloves and gears, she upgrades an empty room into a sports hall for the boxing sessions.
Husna belongs to Iraq's 1.5 million displaced population; civilians who were forced to flee in face of the ISIS invasion in 2014 and the anti-ISIS bombardment and raids that came after. "All I remember is that one morning we had to leave everything behind, hop in the car and escape to the mountains. ISIS was getting close to Sinjar. If we had stayed, we would have got killed, just like the others," she says. The Yazidi population was a particular target of ISIS aggression. Many of them experienced unimaginable horror while escaping and witnessed their family members getting killed or kidnapped.
Since 2014, displaced Yezidis have been marooned in camps accross Iraqi Kurdistan. The camps, each hosting tens of thousands of displaced people, are usually located kilometers away from the nearest cities and in practice, are isolated from the rest of the country. Families had to live in small container houses for years.
This did not stop some of the refugee women from improving their lives. The IDP camps of the northwest of Iraq, which operate under the Kurdish regional government, are full of success stories of women who built on the bare minimum and left the camps better off than when they arrived.
Husna was one of them. She learned how to box while living in an IDP camp called Rwanga, for seven years — most of her teenagerhood.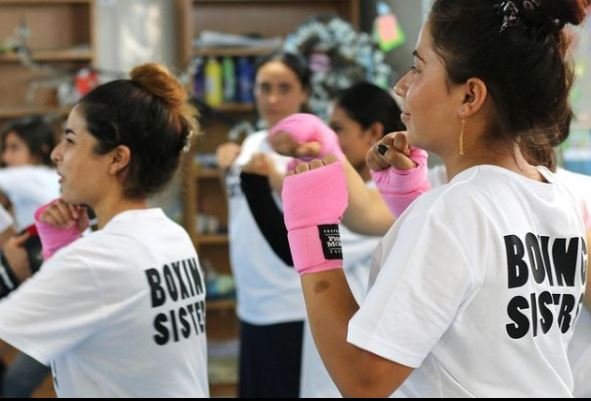 Boxing sisters of Rwanga camp
In 2018 Husna signed up for a project called Boxing Sisters. An NGO called Lotus flower had initiated it and the purpose was to improve the mental and physical health of refugee women.
"I went to the first session and immediately fell in love with the sport," says Husna.
All the trainers, including Cathy Brown, the British boxer who visited the camp, agreed she had talent.
Now Husna has become a quite well-known boxing trainer herself. Not only her neighbors and friends in Rwanga camp but also women in the other camps, who take part in her courses, know her. Lotus Flowers supports Husna to regularly visit other IDP camps and train more women and girls, even now that she has moved back to Sinjar. Husna says that boxing has given her a sense of purpose. "If it wasn't for boxing courses, I wouldn't know what to do going back to Sinjar. There is nothing there for me, no jobs or no universities I could afford," she says.
Rwanga camp Success stories
In Rwanga camp, boxing courses were not the only empowerment program on which women could rely.
NGOs like Lotus flowers offered a pallet of educational activities, aimed at educating women and supporting them to gain independence. "They were all successful programs because women welcomed and valued them and enthusiastically took part in them," says Vian Ahmad, the regional manager of Lotus flower.
Thanks to the occupational training offered in the camps, dozens of women have learned how to start their own small businesses. Leyla, a 37 Yazidi woman, learned how to sew through Lotus flower courses. She has now opened her own little tailors' shop, after returning to her hometown.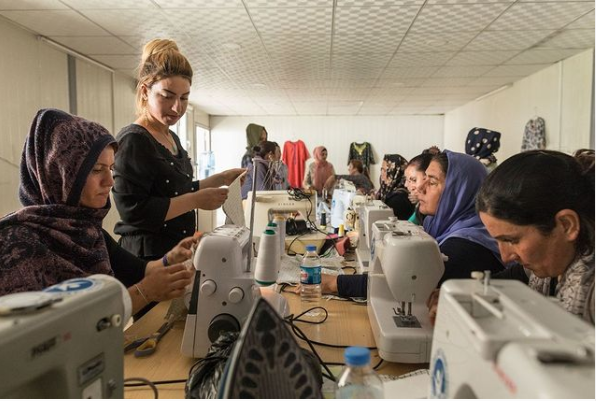 "It is ironic, but living in a camp provided opportunities for women that they would never have access to, back in their villages."
Even before the ISIS siege, Iraq's infrastructure was strained due to years of war and instability. In rural areas, most women did not have the chance to go to school or learn an occupation independent from their families. "Our literary courses in the camps have always been overbooked." Says Ahmad. "Now more than a hundred women have learned how to read and write."
One of the women, who never miss a single session of literacy classes, is Nine. Lotus flowers helped her to open a small grocery shop in Essyan camp. With the income, Nine can sustain her family and take care of her disabled husband.
Sisterhood in IDP camps
The educational opportunities that social workers provided for displaced women across Iraqi Kurdistan go beyond occupational training. Lotus flowers organized sessions in which women could learn more about their bodies, contraceptive methods, and how to take care of themselves. Other regular workshops maintained a sustained focus on gender equality in parenthood. There have been many noticeable changes, Vian Ahmad has noted, "far beyond what we all expected."
Reporting domestic violence used to be a taboo in the camp. After the second and third years of working in the camps, Ahmad says she was positively surprised to see even older women reporting it. "As women found a supportive community outside of their families, their fears started to vanish. This did not exist in their lives before," says Ahmad.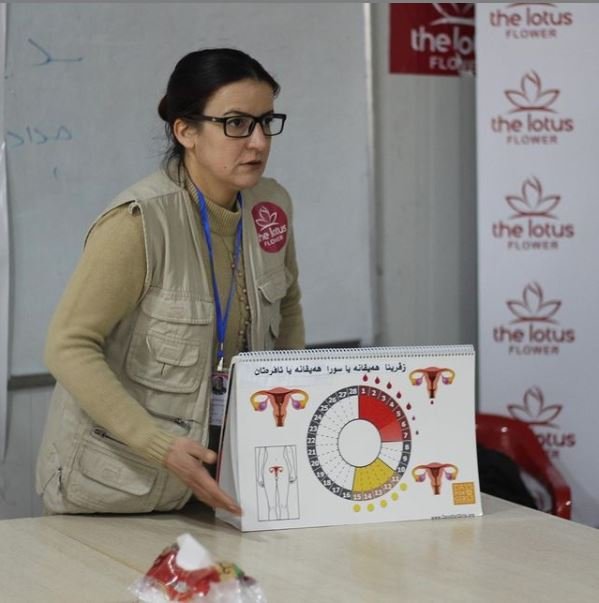 Ahmad doesn't know if these changes are going to persist when all the displaced women go back to their towns and villages. Many of them are reluctant to leave, she has noted, because they will lose the safe space they had here.
That was at least the case with Husna. "I arrived in the camp with a grip that lasted for several weeks. I didn't know how we were going to manage; I hated it here and wanted to go back home," the young girl says. "But leaving my friends, … It felt just like the day I arrived."